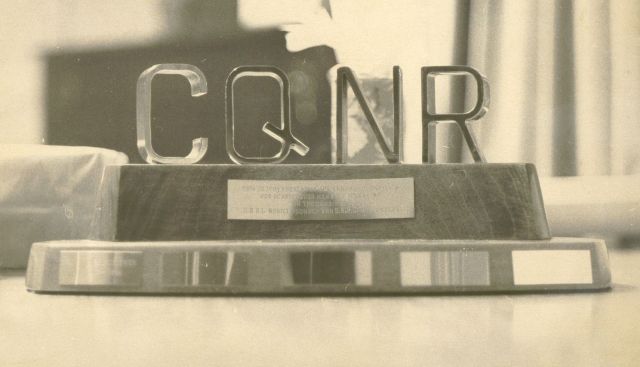 The Scarborough Amateur Radio Club created the CQ-NR Trophy in 1966. It was presented to the winner of the annual competition for Scarborough members operating in the combined A.R.R.L. Novice Roundup and S.A.R.C. CW contest. The trophy was donated to the club by Ed Charlton, VE3FCE, and Jim Ashfield, VE3FOE.
Bill Cate, VE3HR, was the driving force behind the award's creation. He wanted to encourage the use of CW, so he created a CW contest for SARC that would co-exist with ARRL's Novice Roundup contest.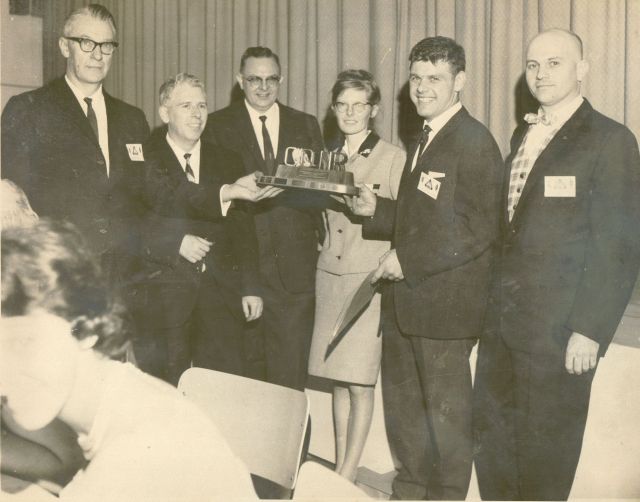 Here the trophy is being presented to its first winner, Gunther Achleitner, VE3FTF. From left to right are: Bill Cate VE3HR, Cliff Smythe VE3EZC, Jim Ashfield VE3FOE, Mrs. Achleitner, Gunther Achleitner VE3FTF, Edward Charlton VE3FCE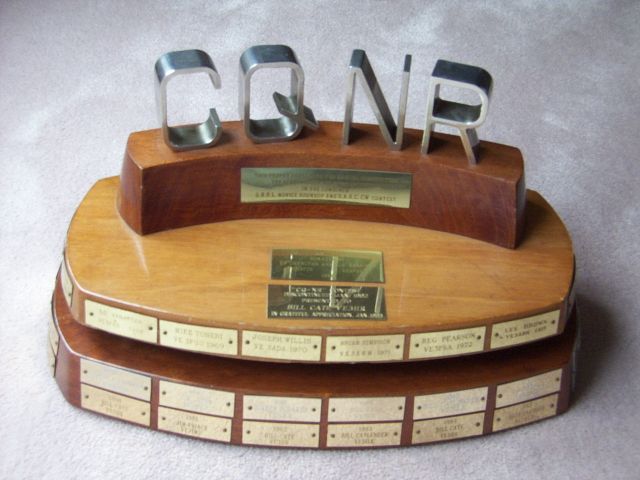 Here is the trophy in its current form. The SARC contest was terminated at the same time as the ARRL Novice Roundup contest. It was presented to Bill Cate for his dedication to the encouragement of CW in SARC through his promotion and administration of the contest.
Winners:
1966 - Gunther Achleitner, VE3FTF
1967 - Ivy Smythe, VE3EZI
1968 - Ed Vanattan, VE3FRR
1969 - Mike Toneri, VE3FGU
1970 - Joseph Willis, VE3ADA
1971 - Brian Simpson, VE3ENM
1972 - Reg Pearson, VE3FSA
1973 - Les Brown, VE3ABN
1974 - Gordon Hogarth, VE3CNA
1975 - Jack Williams, VE3AUR
1976 - Eric Olsen, VE3GGO
1977 - Bernie Timothy, VE3HUU
1978 - Tom Hedges, VE3GZV
1979 - Bill Catlender, VE3ILE
1980 - Bill Cate, VE3HR
1981 - Jim Prince, VE3IMU
1982 - Bill Cate, VE3HR
1983 - Bill Catlender, VE3ILE
1984 - Bill Cate, VE3HR
1985 - Earle Cardozo, VE3KCO
1986 - Earle Cardozo, VE3KCO
1987 - P.K.John, VE3OGZ
1988 - Gordon Hogarth, VE3CNA
1989 - Bill Cate, VE3HR
1990 - Bill Catlender, VE3ILE
1991 - Bill Cate, VE3HR
1992 - Bill Cate, VE3HR