Article by Doug Netherton, VE3MCF
In 1977, the Scarborough Amateur Radio Club hosted the ARRL National Convention here in Toronto Ontario.
The agenda of this three day event included tours through the local attractions like the CN Tower.
Several items would not be out of place for conventions today like:
QSL Bureau Operations
Vintage Radio
Micro-Processors
DX Forum
Antenna Forum
Fast and Slow scan ATV
Safety in the Shack
WARC "79"
Of course, our local organizations like DOC, RSO, and CLARA also had items on the agenda.
One of the hot items was CB to HAM RADIO.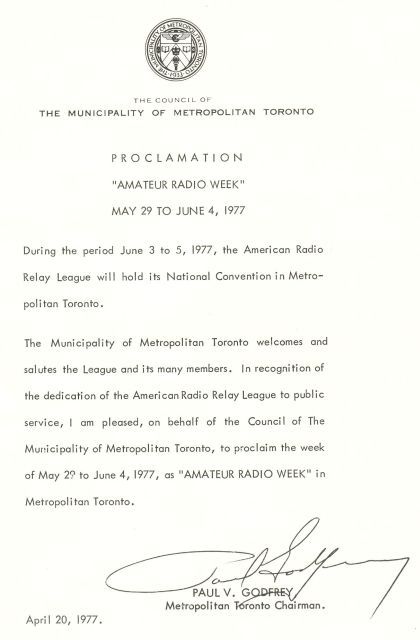 Metro Toronto Chairman, Paul Godfrey, declared it to be Amateur Radio Week.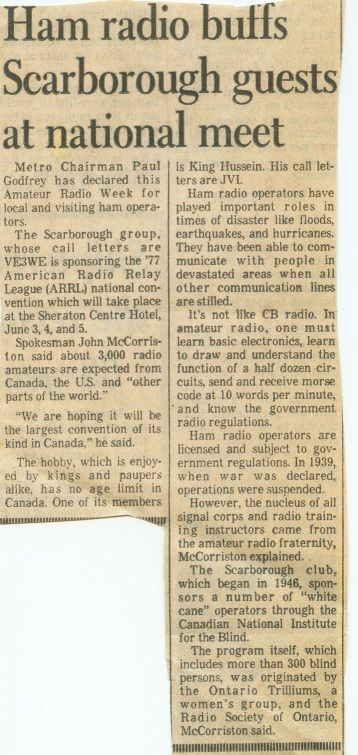 About 3000 radio amateurs from around the world were expected to attend the convention. The newspaper interviewed a well known SARC member, VE3DAY, John McCorriston (SK). I found his name linked with several documents regarding the ARRL convention. The report contains several gems regarding amateur radio for the time.
The main organization was performed by SARC's committee, but there was a lot of help from other Toronto area organizations as well.
In the convention program, our committee chairman, Gord Steane, VE3BMG welcomed the attendees while ARRL President, Harry Dannals, W2TUK, set the expectations and theme.