Monthly Archives: April 2013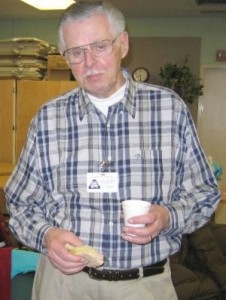 Gordon Gault VE3UFF became a Silent Key on Sunday, April 14, 2013, a few days before his 91st birthday. He was a veteran of World War II (RCAF) and a long-time member of SARC. Gord worked at General Electric for many years, and was also a member of the Toronto Society of Model Engineers and Toronto FM Communications Society.
He was also my neighbour, and the man who introduced me to amateur radio and the club...I'll miss him.
Obituary:
GAULT, William Gordon – (April 20, 1922 – April 14, 2013) Passed away at the Sunnybrook Veteran's L-Wing after a brief illness. Predeceased by his parents, William and Ethel Gault, daughter, Kate Jean Gault and brother, David Gault. Survived by his wife, Jean Gault, sister, Joyce Gault and son, Robert Gault (Brenda). Proud Veteran of the RCAF. Gord served his country through World War II in Europe. A special thank you to the staff of Sunnybrook Hospital L-Wing for their care and compassion. Following Gord's wishes, cremation has taken place. An informal gathering of remembrance to take place for family and friends at THE SIMPLE ALTERNATIVE FUNERAL CENTRE, 275 Lesmill Rd., Toronto (east off Leslie St., south of Hwy. 401, 416-441-1580) on Thursday, April 18, 2013 from 11:30 a.m. – 1:00 p.m. In lieu of flowers, donations may be made to the Multiple Sclerosis Society of Canada.
Submitted by Ray Chow VE3ZXC
Don VA3XFT will be speaking about Digital Mobile Radio at the monthly meeting of the South Pickering Amateur Radio Club on Thursday, April 11 at 7:30 PM.
Location: Pickering Recreation Complex, O'Brien Meeting Room A (rear entrance of complex), 1867 Valley Farm Rd, Pickering.
See flyer for more information.