In this picture you see Leo Kelly VE3HUN now silent key, presenting Gord Hogarth VE3CNA & Audrey Little VA3YD of our archive committee the original Cease Fire Order that ended the Second World War on the Western Front for British, Canadian & Polish troops. The President that night, Bob Chrysler VE3IEL looks on.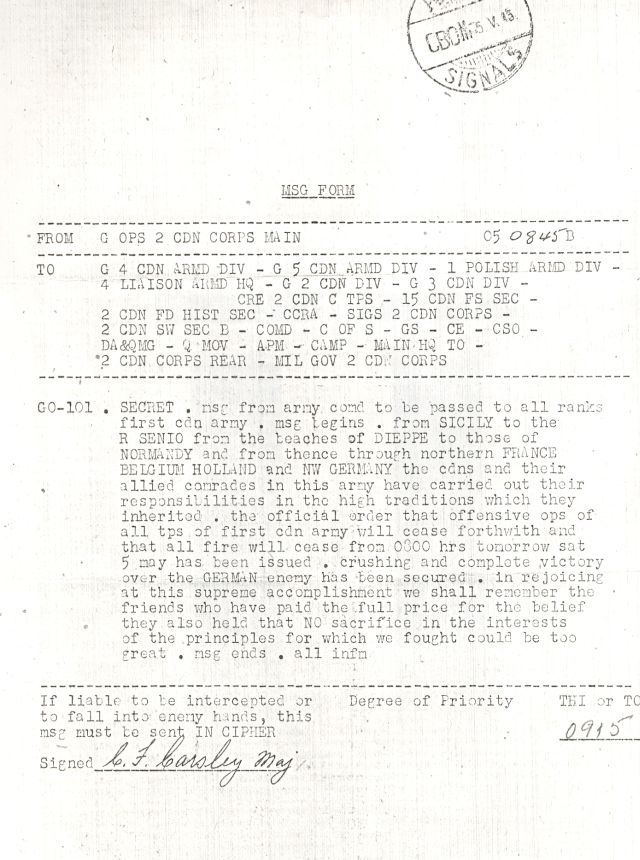 Europe - WW II - 1945
Leo Kelly - Regimental No. B32723 - VE3HUN
I was an O.W.L. (operator wireless and line) "B Class" capable of operating at 25 words per minute. We first had to pass the "C Class" requirements of 15 words per minute and also had to be able to operate a switchboard, telephone and Fullerphone, a line instrument for sending Morse code in plain language - it didn't require for the messages to be enciphered as a chopping unit was on the machine and could only be converted back and received by another Fullerphone. The instrument could be attached on two wires, superimposed on a telephone line or on a single wire and an earth pin. We also had to know the organization of both the Canadian Army and the British Army and a working knowledge of the American Army. In Holland, we had the 82 and 101 Airborne Divisions under Canadian Command for a period of time. Our unit was 2 Cdn. Corps (CBOM) and we worked 2 shifts, 0800 to 1700 hrs. and 1700 hrs. to 0800 hrs. the following day. Our unit had capability of operating by line, wireless (radio) and by dispatch riders; some used motor cycles but most drove jeeps - the amount of things were too much for a motorcycle to carry.
All messages came to the Signal Office and had to be checked to see if there was anything that could not be sent and if there was, the message would be returned to [the] originator to be corrected. All messages then had to be transmitted by whatever system the addressee had. If by radio, the message had to be taken to the Cipher Section - if the message was to go to divisions, it would be in 5 letter groups and if to brigades, 4 number groups. There were no addresses shown, only the number of groups. After transmission the message was returned to the Cipher Section and if a message had to be sent again for whatever reason, it could be retrieved from them. There was no plain language on radio. It was only used in tanks and infantry units.
When the Cease Fire message was received from 1 Cdn. Army by teletype just after midnight on May 5, it was decided that it could be sent in plain language, not enciphered. This presented a problem because the receiving operator held his key down to stop the transmission as only enciphered messages could be received. All the operators had an unauthorized signal and this was sent with the word Ceasefire, then the K was given to transmit. Another problem came up, as some units only had a telephone - the message was not completed until you had confirmation that it had been received. In some instances the receiving person in the unit would disappear as soon as he heard the word "Ceasefire" and you had to wait until they came back to the phone for confirmation.
The original message included all of western Europe except for Dunkerque and a German-held island in the Channel that had been bypassed.
The stamp on the top of the message shows "CBOM" meaning that it had been received by the 2 Cdn Corps, main headquarters and the time as 9:15 hrs. This was a confirmation of the earlier sent message that had originated at 21 Army Group commanded by General Montgomery and sent to 2nd British Army, commanded by General Dempsey and the 1st Cdn Army commanded by General Crerar, then relayed to 1st Cdn. Corps in the Netherlands and 2nd Cdn. Corps in Germany. Our unit was at a small lake and a small airport next to it between Oldenburg and Wilhelmshaven. The lake had been used to test 2-man subs and the airport was used to train pilots for the Luftwaffe. After the Ceasefire the German troops came across to Wilhelmshaven to board ships to take them to Bremerhaven in the British-held zone and our unit provided communications for this operation.
The Europe Ceasefire was May 8 but for us, it ended at 0800 hrs. May 5, 1945.