The "Wireless Association of Ontario" was formed in 1912 and continued until around 1955 and meetings were held in the Electrical Building at the University of Toronto.   A radio course was offered and a station was established on 40 meters  ( 7 Mhz ) with a power of 4 watts using the call sign 9BZ followed by NC9BZ.  Contacts with similar stations in Europe and Australia were reported.   A call sign of VE3KI was mentioned in "Varsity" the student and University newspaper of February 1935.
F.G. Paterson 3JL was a delegate from the Wireless Association of Ontario at the first Canadian National Radio Convention, held September 8-9, 1922 at the Prince George Hotel (formerly the Rossin House Hotel) in downtown Toronto. Here is a photo of his delegate ribbon, courtesy of his grandson, Bob Paterson.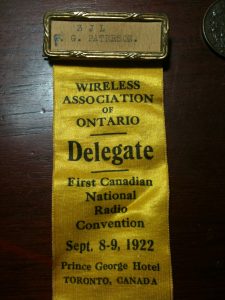 THE FIRST CONVENTION

Canadian Amateur Radio had its first big convention at the Prince George Hotel in Toronto on the 8th and 9th of September (1922), under the auspices of the Wireless Association of Ontario. Several hundred radio amateurs attended the sessions. A good radio show and exhibit occupied stalls around the edge of the convention hall and in several adjoining rooms. Technical papers were presented at some of the meetings, an amateur gabfest was held and amateur work talked over. On the night of the 9th a banquet was held which will ever remain one of the bright spots in radio for those who attended it.

The various technical and business sessions were presided over by A. H. Keith Russell, president of the W.A.O.O. and A.R.R.L. Ontario Division Manager. Among others, papers were delivered by Mr. J. H. Thompson, chief engineer, Canadian Marconi Co., on Radio Transmission; Dr. NV. B. Cartmeal, Engineering Dept., Northern Electric Co., on the "N" Tube; and Dr. C. A. Culver, Research Dept., Can. Indep. Telephone Co. on recent radio developments.

New regulations had just been made for Canadian amateur radio a few days previously and Mr. Edwards made the, first official announcement during his talk.

C.W. was permitted specific wavelengths of 150, 175, 200, and 225; power limited to 1/2 K.W.; experimental "9" licenses, 275 meters. Provision is also made for an amateur broadcasting license, to be used especially in localities where there are no broadcasting stations, wavelength 250 meters. This class of license is to be issued only to duly organized associations, transferable by the club to any member thereof and good for operation during such hours as the club may determine. By this process the community is permitted to govern itself and there must be agreement.

Public broadcasting continues on 400 to 450 meters as present. (TA Canadian Convention, QST, November 1922, pp. 33-34.)

"The A.R.R.L. is operating in Canada at the request of leading Canadian amateurs, who realized that Canadian amateurs were not sufficient in number to maintain a relay organization through their own stations alone, nor could they finance a successful organization. The A.R.R.L. therefore has created Divisions in Canada, under Canadian Division Managers, exactly as in the States. A Canadian General Manager, Mr. A. H. Keith Russell, 9AL, supervises all their activities. By request it is doing what it can to help the amateurs of a sister country until they attain numbers sufficient to insure the success of an independent organization. The A.R.R.L. considers that it has a sacred trust in Canada and it proposes to safeguard that trust with all its ability." ("CRRL," QST, November 1923, p. 33.)
Source:   "From Spark to Space, The Story of Amateur Radio in Canada"   by Saskatoon Amateur Radio Club VE5AA"   published by Saskatoon Amateur Radio Club VE5AA, Saskatoon, Saskatchewan, 1968, p. 29.
Here are some examples from the 1920s of a standard QSL card provided by the Wireless Association of Ontario. These images are courtesy of the K8CX Ham Gallery site and are reproduced with permission.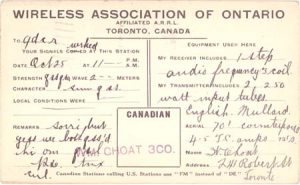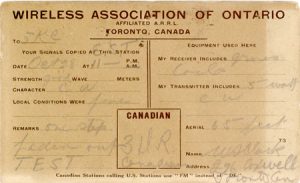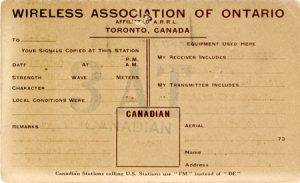 On a personal note, I knew 3CO, Bill Choat, who became VE3CO and is now a silent key.  He was a prominent and active Amateur in Toronto and Ontario with great attention given to the Amateur Radio Program for the Blind sponsored by the Canadian National Institute for the Blind.
WIRELESS ASSOCIATION OF ONTARIO

"It soon became apparent that some regulation should be drawn up to keep the experimenters and operators within one general province. (sic) .

The Wireless Association of Ontario was formed in 1912 with about 50 unlicensed members. After several unsuccessful representations to the Government of Canada regarding license information, the Wireless Association of Ontario decided to issue station licenses to its own members. They also drafted a set of regulation for the guidance of the operators   A list of the operators with their station calls and regulations issued by the Wireless Association of Ontario is included herewith. The letter X denoted amateur status, the second letter the initial of the surnames with the same initial. Club meetings were held once a month in the YMCA in Toronto.

RULES OF THE ASSOCIATION, 1912-1913

1.       All members agree to abide by the following rules:

2.      To use oscillation transformers, properly designed, for tuning all transmitting sets using step-up transformers and spark coil sets employing interrupters for current, and with ordinary spark coil sets, to use either the above or a condenser of small capacity in series with the aerial.

3.      To tune as closely as possible to one pure wave with hot-wire and wave meters, using at least 3 inch coupling.

4.      TO INTERFERE IN NO WAY WHATEVER WITH ANY COMMERCIAL OR GOVERNMENT STATION, and not unduly with any other amateur station.

5.      To use the formula for calling another station as advised by the London Convention.

6.      To wait 5 minutes before repeating a call if one fails to get an answer.

7.      From 10 to 11 p.m. is reserved for long distance receiving.   Members should refrain from transmitting during this period.

8.      Stations to operate not more than half hour at a time, with half hour intermission.

9.      All station copy messages on Q.S.T.

10.  TO ABSTAIN FROM ALL SUPERFLUOUS TRANSMITTING.

Soon after this the Government of Canada saw the need of having all amateur radio activity under its jurisdiction and drew up a set of regulations.  These came into force in 1913-14."

( Note:  All capital letters in Rules 4 and 10 as per original text. )
Source:   "From Spark to Space, The Story of Amateur Radio in Canada"   by Saskatoon Amateur Radio Club VE5AA"   published by Saskatoon Amateur Radio Club VE5AA, Saskatoon, Saskatchewan, 1968, pp 6, 7, 8.