On Saturday June 12th 2004, the Mid-Scarborough Recreation Centre held a "Fair" to show the folks who live in Scarborough a little of what the Mid-Scarborough Centre offers.  Besides the two large rinks there are various organizations that have activities centered around the Mid-Scarborough Complex.
There is the active Scarborough Rifle Club, a Snooker Club, a Euchre, Cribbage, Bridge group, special Karate for the hard of hearing, various dance activites, then of course a large Sea Cadet group, an Air Cadet group, and a very active Seniors group.
The Scarborough Amateur Radio Club is also one of these many user-groups. Last year was the second year that The Scarborough Amateur Radio Club was invited to take part in the Mid-Scarborough Recreation Centre Fair.  The idea was to show the public what our radio club is all about.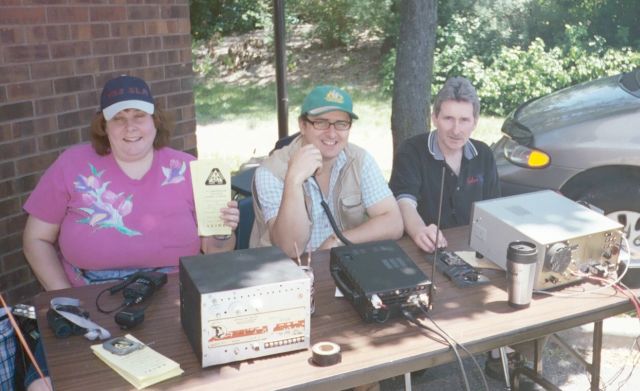 In this picture you see Lauri VA3SLA holding some promotional fliers that we handed to interested persons.  The big blowing sign at one of the operating tables was made for us by Scarborough Kids.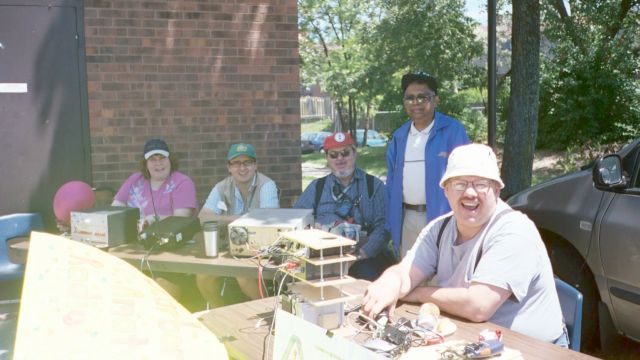 Thanks to Earle VE3KCO a vertical antenna for HF communications was erected, and some interesting contacts were made.  The previous year we were restricted to an inside demonstration due to the weather.  Being outside for this event gave us a little more advantage.  We met a few folks who showed a moderate interest in amateur radio.  We gave them some fliers, talked to them, got their names & telephone numbers;  but, real keeners are hard to find.  As you can see from the pictures, the operators that were present had a lot of fun that day enjoying their hobby.
Submitted by: Bob Chrysler VE3IEL