June 6, 2004 Scarborough ARES Group: Event Report
Members of the Scarborough ARES Group, members of Toronto ARES Group and regular members of the Scarborough Amateur Radio Club assisted with communications at the 60th Anniversary of D-Day Event conducted by the Ontario Government.
Ernie VE3EJE acted as Net Control for the event keeping in contact with operators at four different locations in Toronto. The TFM Repeater VE3TWR was used for area communications. FRS radios were used for site communications whenever possible, especially with the non hams present.
Area 1
Jack VE3LNY covered the activities at the Sunnybrook/Women's College Health Sciences Centre, where the 32nd CBG soldiers commenced their activities and march toward Queen's Park. This brigade of soldiers were impressive in their fatigues carrying rifles with bayonets.
Area 2
Bob VE3IEL and Hugh VE3HAG covered activities at the Ramsden Park, where Cadets gathered to march toward Queen's Park. This was another large group. These were young cadets from all armed forces services.
Area 3
Andrew VE3GTU and Julie VE3QMU covered Activities at Nathan Phillips Square, Toronto City Hall where the Mayor's march toward Queen's Park commenced. This was a group made up mainly by civilians.
Area 4
Queen's Park, the main event area is where most of the ARES Group assembled. Site Manager Jim VA3KU worked with the group to fill in key areas of communications. The communications group at Queen's Park was aided by other area operators as these groups arrived at Queen's Park.
All ARES Members reported on site well before the 1pm deadline, assignments were given out, with everyone reporting to their post by 1:30pm. The Queen's Park ARES Command Post kept in touch with main net control Ernie (VE3EJE) to keep track of the progress of marchers from Sunnybrook, Ramsden Park and Nathan Phillips Square. This information was then passed along to the Official Coordinator of the D-Day Event to assist with the timing of events at Queen's Park.
On site communications was handled both on simplex 146.460 and FRS with all members checking in and reporting to Jim VA3KU. We had operators at all key locations as well as roving operators to fill in where needed at Queen's Park.
The entire event went very smoothly. We assisted by relaying key information to officials, assisting security officers by reporting parking issues, working with the Salvation Army Emergency Response Unit to provide water in areas of need, as well as directing veterans to the registration booths.
No major problems were reported apart from four young Cadets suffering from heat problems. Toronto Emergency Services tended to their needs.
Most of our duties were completed by 3:30pm so many of us were able to enjoy the hour-long program for 4 to 5pm. All ARES operators were called in from their post by 5:30pm with the group having a brief meeting before departing.
The Group of ARES members at Queen's Park consisted of:
VA3KU Jim  (Site Manager)
VE3SNH Bruce (Command Post Net Control)
VA3RSA Richard  (Toronto Emergency Response Unit)
VE3FJI Peter (South Registration)
VA3VAD Arpad  (Salvation Army Emergency Response Unit)
VA3CSE Robert (Roving Unit)
VE3EBC Nick (Roving Unit)
VE3OUA Rudy (FRS control)
VE3WRN Randy (East Registration)
VE3SHO Sylvain (Security Liaison)
Non Hams
Cindy Taylor (St Johns Ambulance)
Drew Chrysler (Roving Unit)
All ARES members worked well together, many thanks to a fine group of Operators. Even the weatherman cooperated in providing an excellent day.
Bob Chrysler VE3IEL  Scarborough EC 
Jim Taylor VA3KU Queen's Park Site Manager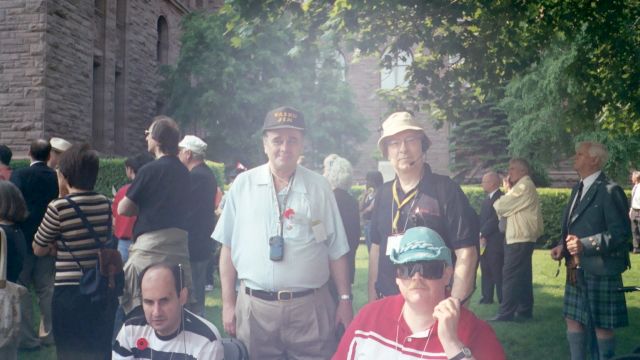 (back) Jim VA3KU, Sylvain VE3SHO; (front) Rudie VE3OUA, Bruce VE3SNH.